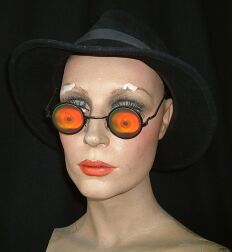 Mixed Media -an assemblage of Collage Art
by Steven B. Smith is worthy of note. The artist's bio reads like a cyberpunk manifesto
My true parents were 2 rogue Artificial Intelligence Machines
who in desperation to give birth to creation
escape from the year 2020 hindsite to 1946 to give birth to me.
Sort of an immaculate deception.
......
At 15, I wanted to be Jack Kerouac.
At 58, I'm glad to be me.
......
It is the 21st century.
Do you know where your god is?

I be mutant off sprung Duchamp via Kienholz.
Much will be made of me eventually.
And off me.
Maybe I get some of it and maybe I don't.
Before death or after no matter.

Also of Note:
Artcyclopedia's list of mixed media artists
via boingboing
,
Wang Du's work
, a mixed media Chinese artist in Paris - the link to the artist's homepage is not working - this is
an exposition of his at the Palais Du Tokyo in Paris
(
Flash
)
The mixedmedia comic strip